Description
NeoFrost Dual Cooling – 2 separate cooling systems, no odour transfer
It's difficult to keep the fish in the freezer together with a flavourful cake in the fridge without their odours mixing. NeoFrost Dual Cooling's separate cooling systems for each compartment maintain ideal air flow and optimal temperatures in both the freezer and the fridge. As a result, food stays fresh for longer with no frost build-up or odour transfer.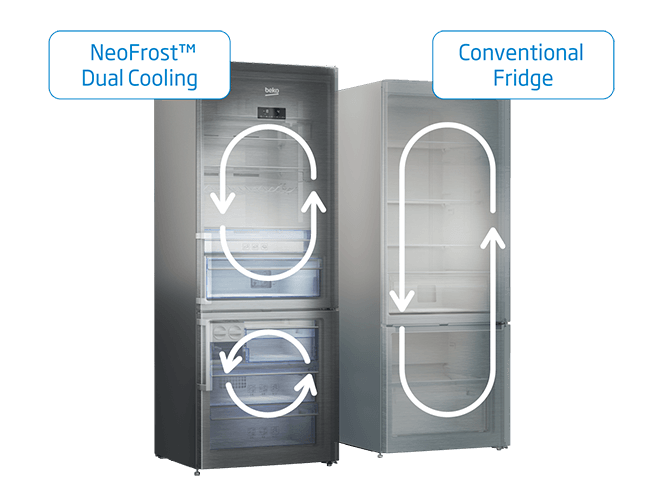 Reversible Door – Adjustable door direction to fit your kitchen layout
Some kitchen layouts require that refrigerator doors open in one direction and not the other. Reversible Door allows door hinges to be placed on both the left and the right of the unit, so decide which way your fridge doors open. Plus, you can double your cooling capacity by placing two fridges side by side and reversing the doors of one.
Safety Glass – High-durability glass shelves
Ease your worries of putting that huge and heavy pot in the fridge with Safety Glass. Safety Glass shelves are made up of tempered glass and can carry loads of up to 25 kg. They resist cracks and scratches much better than un-treated glass, so you can store heavy items without a care.
SmoothFit – 90° door opening for convenience
Some kitchens have a challenging layout with appliances in awkward places. SmoothFit doors don't go past the side panel when opened 90 degrees, meaning the fridge can easily be positioned at the corner of a room or next to a wall without compromising ease of use. Crispers come all the way out too!
Vacation Mode – Extra energy saving
Get your fridge in the holiday spirit when you leave for vacation. Vacation Mode saves energy by shutting down the cooler section but keeping the freezer running. Frozen food will we preserved while you save on energy bills.
Warranty – 5 years